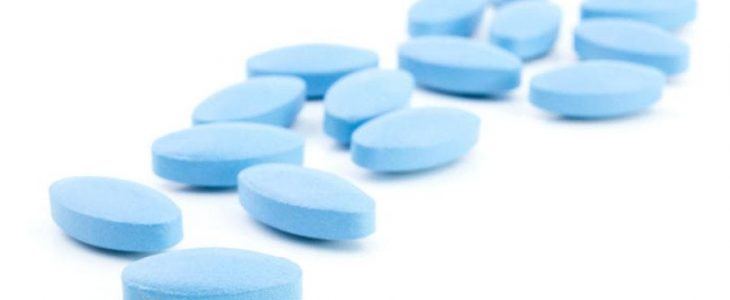 Brand: Erefil
Active Ingredient: Sildenafil Citrate
Treatment: Erectile Dysfunction
Manufacturer: Medhaus Pharma Inc
Country of Manufacture: Philippines
Erefil Tablets Image
Review and Description
Erefil is a common ED medicine developed for providing ED care in men who are facing the embarrassing disease condition. Erefil-50 and Erefil-100 are the two tablet concentrations of this medicine. Both concentrations include sildenafil citrate, the main component, among the drug's chemical composition. That pharmacological agent induces relaxed penile smooth muscles and expanded blood vessels. Phosphodiesterase type 5 catabolism of cyclic guanosine monophosphate is inhibited by sildenafil citrate when it is absorbed into the blood stream. CGMP can consequently induce relaxed smooth muscles in the cavernosum which leads to the desired effect of expanded blood vessels. Expanded blood vessels increase blood supply to the region accordingly. The overall effect is a healthier erection in Erefil users.
Erefil-50 and Erefil-100 are produced by a Philippines-based generic manufacturer known as Medhaus Pharma Inc. The company was officially registered in 1992 as a pharmaceutical products wholesaler. It eventually moved beyond that to innovations of its own with the goal being to engender indigenous patronage. The company had an eye on the global marketplace but first had to focus on consolidating its local efforts. Its operating base is located in Kamuning, Quezon City, Philippines. Analgesics, COPD medications, Beta-blocking agents, diabetes drugs, systemic corticosteroids, and Vitamins are part of their catalog.
Customer Reviews
Our best efforts at capturing available consumer reviews were fruitless due to their unavailability online. Had we gotten any consumer reviews, we would have been able to tell you what the general perception of the product is. If its popular and effective, or if there are more affordable tablets of the same quality.

We did get some information regarding the marketing strategy the manufacturers, Medhaus Pharma Inc., may be employing for its generic medications including Erefil. We learned that both the 50 milligrams and 100 milligrams tablets are probably being sold off market as you can see the excerpt above. That information certainly extinguishes all hopes of buying it online but doesn't tell us why the medication is not on the company's website. That's curious and could give "off market" another meaning: Sold Out.
Pricing and Dosage
Erefil is only made available, however, that is done, in 50 milligrams and 100 milligrams tablets. We would have loved to provide the price for interested individuals and businesses but, like we have said, the product may be off-market. No pricing information available. That means that we can't compare the price of these tablets with those of other generic sildenafil tablets or capsules. We cannot also compare the price with Viagra by Pfizer. That may be so, but one thing is constant. The recommended dosage is always a tab per day.
How to Buy Erefil Online
Looking all over the Internet for how to buy Erefil 50 milligrams and 100 milligrams tablets is as disappointing as trying to obtain the pricing information. Normally, popular drugs in this category are readily available on some of the most trusted online pharmacies and we provide the links here. That is usually indicative of a credible and large operation. Sometimes, even in cases of small-scale operations, we are able to provide interested parties with shipping and pricing information. Not so in this case.
How to Use
Oral ingestion of Erefil 50 milligrams and 100 milligrams tablets is advised. Taking the tabs as it was produced is preferable to chewing on them. Chewing hinders effectiveness. So do meals with a high portion of fat, alcoholic beverages, and grapefruit juice. Take only one pill per day and do so about 30 minutes or an hour to sexual intercourse. Women and children should not use the drug under any circumstances. Store Erefil in a place free of moisture, and at room temperature.
Side Effects
Erefil shouldn't be any different than other regular sildenafil medicines when it comes to the occurrence of side effects. If used according to a doctor's prescription side effects are minimal and only effects like coughing, nasal congestion, vomiting, headaches, and rash are possible. Disregarding a doctor's prescription and allergies could see patients manifest comparatively harsher effects. If color blindness, asthenia, migraine, dermatitis, or Oedema is observed, see a doctor without further ado.
Conclusion with Rating
Erefil is a common sildenafil formulation created with the intention of making quality erectile dysfunction treatment affordable. We learned that the 50 milligrams and 100 milligrams tablets are the only available formulations in the market for this brand. Another thing we now know is that Erefil is an "off-market" medicine. That could mean it's sold through some other preferred channel but its unavailability on the manufacturer's website raises additional questions. The lack of trustworthy user experiences on the Internet doesn't help the situation either. As if that is not enough, there is no hint about the price of this medicine anywhere online. Medhaus Pharma incorporated, the manufacturers of Erefil, have got to do better than this as far as disseminating relevant information about their brands is concerned. We can only give 1 star out of 5 for this drug.